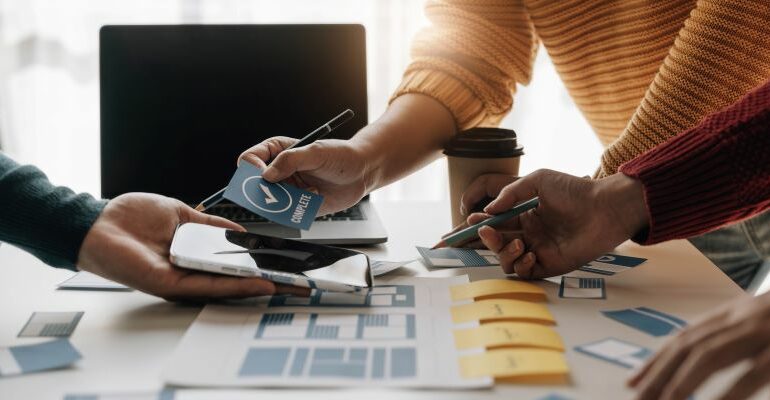 To find the right software development company in digital innovation can present a formidable challenge for any start up or settled company. Yet, in light of the expanding demand for digital solutions, selecting the optimal partner is crucial to remain at the forefront of this ever-evolving landscape. Enter https://betelgeusetech.com , a digital resource consulting company that furnishes software development and digital solutions geared toward businesses of all sizes. With their comprehensive and cost-effective offerings, Betelgeuse aids companies in their digital transformation journey.
Betelgeuse is staffed by an array of IT consultants and certified experts who uphold the highest standards of quality and accountability in all facets of their work. Offers you various services, including project management and digital solutions. Their unwavering dedication and extensive expertise, they provide excellent support throughout every step of the process.
If you are searching for a software development company that can expertly guide you through the intricacies of the digital landscape and deliver affordable and high-quality solutions, look no further than https://betelgeusetech.com/
Large and small organizations must deliver transformative digital experiences to customers to survive. Enterprises split resources away from core operations and pour them into enhancing digital experiences in the wake of the mass adoption of software solutions and the integration of tools. The sheer convenience and quick support digital platforms offer skyrocketed consumer expectations.
Here is a list of six essential points or tips for choosing the right software development partner for your project.
Identify Your Objectives and Requirements First
First things first. Before you commence your search, you must thoroughly understand your end goals and project requirements. Regardless of whether they are technical or non-technical, businesses should have high-level clarity on their requirements. For instance, in the case of eCommerce app development, they should be clear about all elements they require on their eCommerce website.
Also, define your purpose, what problems you will address, who will be the ideal target audience, and what the end-users can expect from this software.
Research
Someone who previously had good experience working with a software development firm would do the job quickly and save you a lot of time and effort.
If that doesn't help, start further research. Look for companies that are into software development and those with relevant skills and expertise. Searching for the best software development company on Google only helps a little.
Check Portfolio
A software development company's next thing to look for is its portfolio. Review their portfolio thoroughly once you have shortlisted some companies after your initial research. Please go through the projects they have worked on in the past so far, the clients they have worked for, and how long they have been into software development.
Companies that have been in the business for a long time have a tried and tested methodology of successfully delivering projects. In contrast, companies needing more experience are still in the development phase. However, it is only sometimes accurate as you may encounter companies that are still relatively new but have an impressive portfolio; vice versa is also possible.
Also, have a look at the testimonials and the company's delivery timing as well. For your satisfaction, try testing the applications they have built in the past.
You can even ask the selected firms to provide you with a list of their previous clients. Companies with good reputations and are confident about their skills won't hesitate to share client details. It also helps you understand the work ethic of the company. Proceed with software development companies you find to be the perfect fit considering the above factors.
Pick Out Agile Software Development Firms
Examine the company's technical due diligence- which would provide insights into the technology used, the architecture, and the development process. It helps you ensure that the companies you have picked have the right skills and the ability to meet your requirements and deliver your project on time. Pick software companies that follow an agile methodology.
Most companies follow an agile methodology these days because they understand that software, which satisfies a client's expectations, can only be built with cooperation. It also gives you better control over how the project is managed and executed. A software development firm that uses Agile frameworks may put forward a one or two-week free trial, enabling you to evaluate their work process and communication in the initial development phase. It would give you an idea about their engagement model.
Ask For Post-Development Support
Post-development support may be optional for small-scale projects, but it becomes crucial for large projects because such projects require constant maintenance to run smoothly and remain bug-free. Most importantly, you should ensure that the software can exhibit high performance even when the traffic is at its peak. It can include software maintenance, customization, backup services, etc.
Do Not Fall For Cheap Offers
If budget is not a significant concern, you won't face much trouble while outsourcing software development services. It can be a hassle if you have a limited budget plan. But, we strongly suggest staying for cheap services. You may come across companies that would promise to deliver high-quality services at a meager price. Please stay away from them; it's a farce.
Look out for companies that fit within your budget. You might have to re-plan your product modules but go forward with genuine firms. Quality should never be compromised; a good product speaks for itself. Consider cost-effective services, not cheap. Unnaturally, economical services can turn out to be the most expensive for your business as such firms may reveal hidden costs.
You must always seek a cost breakdown to clarify which services are covered in the cost estimation. An organization that can provide a modular breakdown of costs has a good eye for the development process.
Final thoughts
Choosing the right software development company is crucial to achieving a successful software project. You can decide factors such as expertise and experience, project management approach, communication, technical expertise, quality assurance, scalability, and client references. Take the time to research, evaluate multiple options, and conduct thorough discussions to ensure a strong partnership that aligns with your project's requirements and long-term goals. Remember, the right software development company will not only deliver a high-quality software product but also provide ongoing support and collaboration, contributing to the success of your business.