Regularly updating and maintaining your site is crucial to ensuring that your site is running at full capacity. Just like bikes, website maintenance services operate properly. Correctly maintaining your site helps to ensure site security, increase the number of new visitors, boost returning traffic, and more. Our website is a virtual window into your business and has a significant impact on how your customer perceives your products or services. It becomes imperative for businesses to work on the minutest details and achieve perfect results for offering only the best web experience to their customers.
This can be reached by having an up-to-date, maintained website that ensures seamless customer experience, maximum security, and better results for your online marketing strategy. It's important to understand that a one-time technical defect can prove to be immensely costly to your reputation, not to mention putting your website at the risk of virus attacks.
Boosts Search Engine Optimization Ranking
Search Engine Optimization (SEO) determines where on the search engine results page your site should be displayed based on the relevance of your website related to the user's search. Many tactics can be employed to help improve your website's ranking. Some of these updates include helping your website to be user-friendly on all devices, consistently updating your content with the latest information, and ensuring your website always has the most up-to-date security measures. All of this falls under the umbrella of website maintenance, therefore maintaining your website is favorable for your business's website SEO ranking.
Keep Your Website Secure
With businesses and consumers relying more and more on the internet to sell and purchase products, the issue of safety becomes increasingly crucial. One of the main components of website maintenance is keeping your website's security measures always up-to-date. Keeping your website security updated protects your site and the data collected from customers from hacker attacks. The security of your business's website plays a part in your SEO ranking as well. It can be said that executing security updates as part of your website maintenance can be beneficial for both SEO and ensures your target audience your site is always secure and trustworthy.
As malware attacks get more advanced day by day, hackers remain on the prowl to utilize your website's weakness for their immoral purposes. If your website is not updated to the newest version, the hackers can become successful in breaking into your system, and put your business security at risk.
Thus, you want website maintenance services to keep your website safe from viruses, trojans, hackers, and other malicious programs. Your website maintenance partner would hold on updating requisite anti-virus properties to keep your website running safe and sound.
Improves User Experience
With all the competition in the online marketplace, if your website is confusing or hard to use your business is likely losing prospective customers because of it. When you perform website maintenance on your business website, your site is constantly improving and becoming simple to use. These improvements encourage users to engage and stay on your website longer. In conclusion, maintaining your website is beneficial as it assists to improve the user experience of your site and encourages user engagement.
Increase Site Speed
As mentioned above, with all the options available online, a business website not only wants to be easy to use, it needs to be fast. If your website takes longer than a few seconds to load, your site is likely to create users to turn away. Maintaining your website permits you the chance to optimize elements of your website design that may be slowing your site down. Another benefit that comes along with consistently maintaining your site is upgrading your site's load speed. Not to mention site momentum is another factor that search engines take into account when determining your SEO ranking which is an added benefit of maintaining your website.
Brand Awareness and Trust
No matter how nice your site is, your visitors can tell if it is not maintained. A website that is not maintained may cause visitors to lose trust which in turn can affect the awareness of your brand. Keeping up with your website maintenance may seem insignificant compared to other tasks, but it can make all of the difference when a user is deciding whether to purchase from you or a competitor.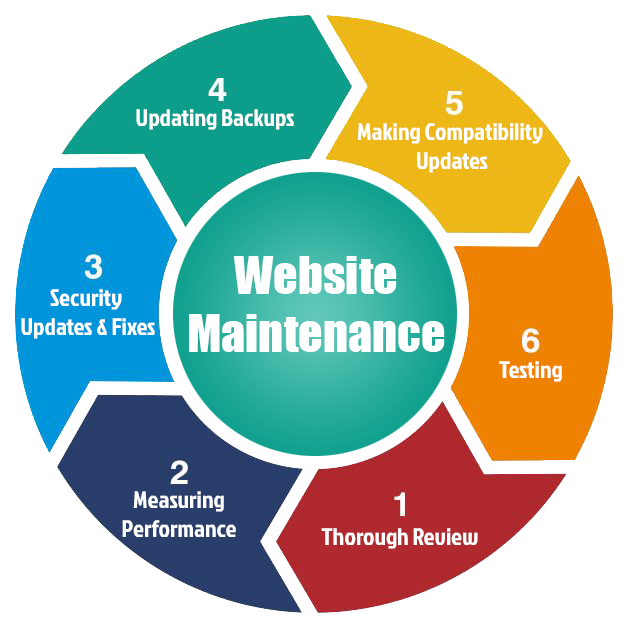 Ways to do Website Maintenance Services
If it has been a while since you created your website, your site would likely comfort from updating the design. Website design trends are continually evolving. If your site does not meet the ongoing standards of user experience and captivating design, your business is probably missing out on potential leads or customers. Unlikely other features of website maintenance, updating your business's website design is not done as frequently. If your website's design wants updating and you are not sure where to start, working with an experienced web design agency, such as Tech Ark Solutions in Norfolk VA, provides you with a knowledgeable partner that can assist you in reimagining your business's website design.
Rewrite Website Content
You have probably heard that websites are never truly complete. The selfsame can be said about your website content. As your business grows and evolves, your content will want to be updated to reflect your new business goals, products, and values. Review your content to see which parts want to be removed or what parts can be improved. Over time your content will become more targeted and your target audience will find the value that can help them decide to complete a purchase or not. Besides updating your content, you should also make sure all of your business's information such as phone numbers and addresses are correct. Having outdated contact details can cause users to lose trust in your company due to neglecting your website.
Test Your Site's Functionality
When performing site updates for website maintenance, there is a chance these updates can cause other parts of your site to break. It is important to check that all elements of your site are working properly once these updates are complete. It is also beneficial to completely check your website once per year even if there are no large updates required.
Now that we have discussed some common methods to maintain your business's website, let's see how maintaining your website via these methods can be beneficial.